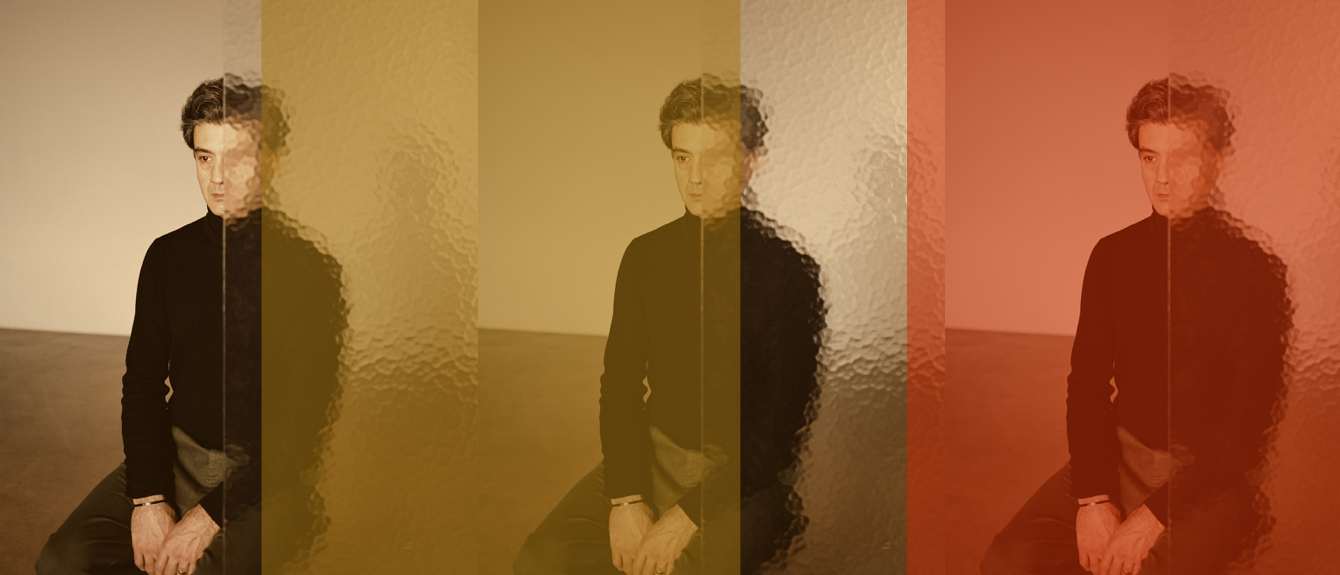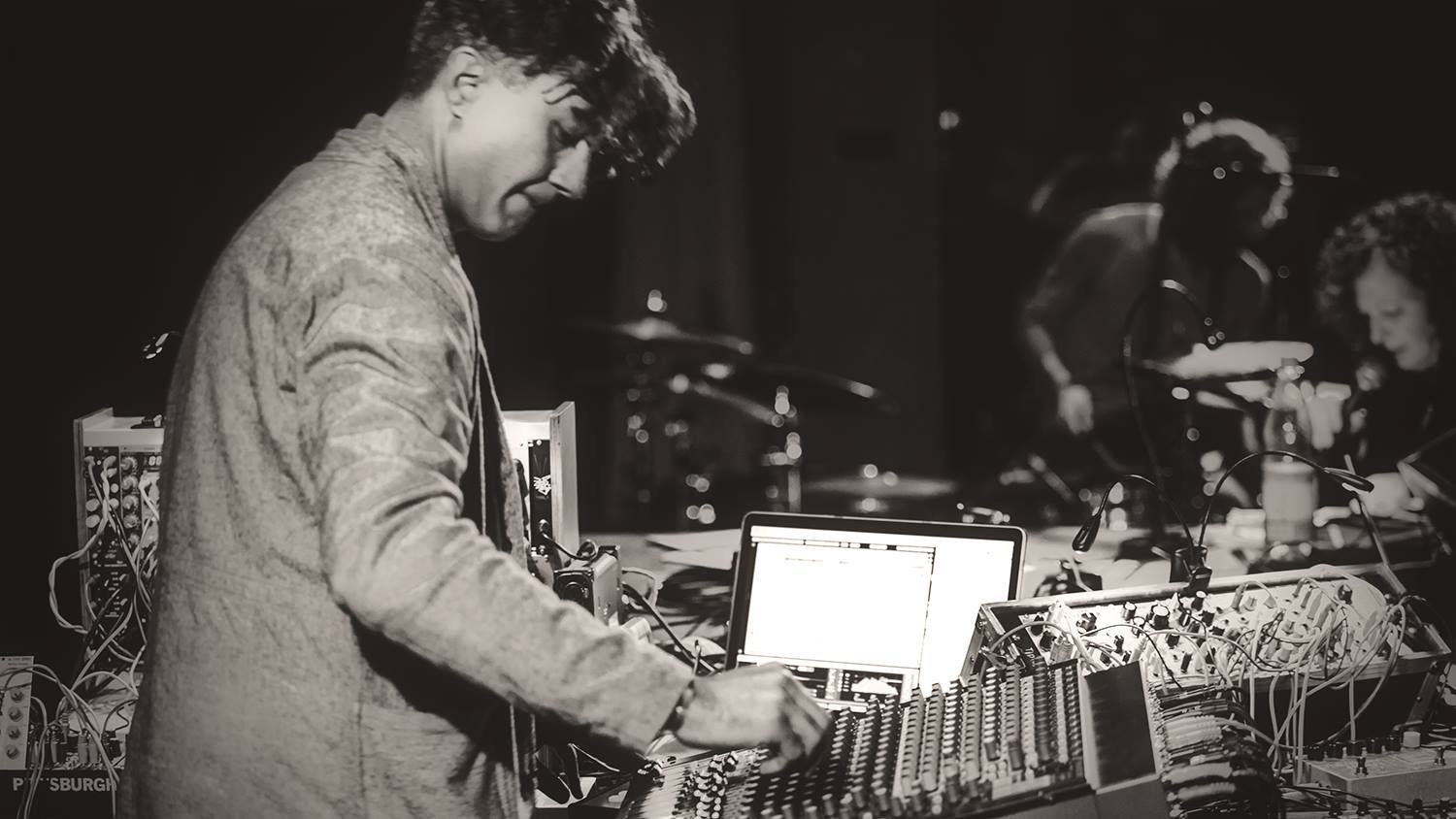 Kamran Sadeghi is an Iranian born American musician, composer, record producer and interdisciplinary artist based in New York City. Recent solo album "Loss Less", released on LINE, was recorded live inside a defunct nuclear cooling tower. The audiovisual installation premiered at the Louvre Museum Paris as part of Rencontres Internationales Paris/Berlin 2021. His most recent collaboration, '42.41' is with installation artist Zimoun.
Sadeghi's diverse body of work can be attributed to his use of sound as a sculptural material. An alchemist who is guided by thematic research, controlled experimentation and intuition while working with synthesis, acoustics, sound, light and video recording / processing technology.
Sadeghi's performances, soundtracks, collaborations and installations have been experienced at the Louvre Museum (FR), HKW (DE), ICA (Boston), DTW (NY), Corcoran Gallery of Art (DC), CTM Festival (DE), KOW Gallery (DE), K11 Museum (Shanghai), MUDAM (Luxembourg), MuCEM (Marseille), Centre Pompidou (FR), Berghain (DE), and Berlin Biennale (DE).
His recordings and productions are published on such labels as Sternberg Press, Vinyl Factory, LINE, Sacred Bones, Dragons Eye Recordings and Apollo Records.
Artist Statement:
I am interested in sound and music for its impermanence, non-object nature, physicality and structural integrity. My work explores the materiality of sound and its interaction within a physical space to create sensory environments that plays with our awareness and the human perception. My compositions avoid classic structures in order to invite visceral narratives to emerge.
-
In 2005 Kamran released his first record under the alias Son Of Rose.
"…Sadeghi's use of the slow-swelling properties of the E-bow filtering through subterranean museums of opaque, glassy dreamscapes like a less oppressive version of Halo Manash's Isolationist Ambience. Disarming Stuff." - The WIRE Magazine.
His primary focus leading up to and through this period was resonance, microtonality, electro-acoustics, granular synthesis and improvisation.
In 2008 Kamran put the traditional output of making albums on pause to create multi-channel sound installations and performances that combined his custom designed interactive video compositions. During this period he worked for composer Morton Subotnick and became part of one of the first galleries dedicated to multi-channel Sound Art, Diapason. Active in the contemporary music scene in New York he performed at Issue Project Room, Experimental Intermedia, The Stone and many others.
From 2012 to 2018, Sadeghi was vital in the transition of the audio tour guide company, Soundwalk, into the art/music group Soundwalk Collective - As the lead composer, music producer, sound artist and live performance director, Kamran wrote music for multiple performers,custom designed instruments, installations and produced studio albums with artists such as Patti Smith, American photographer Nan Goldin, French-Swiss film director Jean-Luc Godard and choreographer Sasha Waltz.
CV
INSTALLATIONS/PERFORMANCES
-2021 Loss Less, Video Installation / Screening at
Louvre
Paris for
Rencontres Internationales Paris/Berlin
-2020, Loss Less, Live Audio Visual Performance UCLA ART/SCI Center
-2020, Loss Less, Album recorded inside defunct nuclear cooling tower, released on LINE, Curated by Richar Chartier
-2018 Berlin Biennale, Film Score for Mario Pfeifer's film Again/Noch Einmal
-BAM, Brooklyn, Multi channel composition for the performance "Kreatur" by choreographer Sasha Waltz using recordings from the Gedenkstätte Berlin Hohenschönhausen (former Stasi prison) as source sound.
-Gaite Lyrique, Paris - 9Channel Sound installation - Say Watt! - Group exhibition - in collaboration with Soundwalk Collective - Paris, FR
-Centre Pompidou, Paris - Soundwalk in collaboration with Mickey Hart (Greatful Dead) - Paris Delhi Bombay Exhibition - Paris, FR
-Centre Pompidou, Paris - Soundwalk Collective - Hors Pistes Festival -"It's Better To Burn Out Than To Fade Away"
-New Museum, New York City-Soundwalk Collective- "The Passenger"- Festival of Ideas for the New City-
-Merida Biennial - 1 single channel video - stereo sound + 1 stereo sound - Merida, MX
Diapason Gallery - "Untitled " - sound and video installation - Nov 2009 - Brooklyn NY
Diapason Gallery - "10ms perspectives on microsound" - 8 channel audio installation - Oct 2009 - Brooklyn NY
Governors Island Art Fair - 2 channel audio + sound reactive video installation - Sept 2009 - New York NY
Gallery 4culture - 2 channel audio + 4 channel sound reactive video installation - 2008-current - Seattle Wa
Micro Series - WPAC's Experimental Media series Exhibition - Corcoran Gallery of Art - 2oo7 - Washington DC
Inner Animal - quadraphonic sound installation - 2oo7 - Ambach & Rice Gallery - Seattle WA
Archives - Sound Art Museum, Roma Italy - 2oo5 - current
Sound Art Broadcast - Aqua Art Miami - Maimi Basil - 2oo5 - Miami Fl
RESIDENCIES
Experimental Television Center - 2009 - Owego NY
Environmental Aesthetics - Satsop - 2008 - Seattle Wa
SCREENING
SIMULTAN FESTIVAL - Projection - "Pattern Recognition" - Timisoara, Romania
Souel International Computer Music Festival - "Voltage Motion" Sound and Video works - Nov. 2009- Souel KR
BYDESIGN FESTIVAL - " Pattern Recognition" - Sound and Video work - March 2010 - Seattle Wa
Contour Editions - "Voltage Motion" - Sound and Video work from ETC residency - New York NY
DISCOGRAPHY
-Solo
"42:41
Zimoun
+ Kamran Sadeghi -
leerraum
"
Loss Lsess
- LINE Sound Art Editions -2020
"All In" - Blanket Fields Music - 2oo9
"Through Thickness"- Dragons Eye Recordings - 2oo8
"Divisions in Parallel"- Dragons Eye Recordings - 2oo7
"Top Flight" - Dragon's Eye Recordings - 2oo6
"Son of Rose" - Dragon's Eye Recordings - 2oo5
"White" - Self Release - 2oo4
-Compilations
"16:9" - Translations Of Opacity - For Michelangelo Antonioni, and/OAR Records - 2oo8
"flocksandflocks" - Listen, Duck Bay Records - 2oo8
"Day New" - Dulcett Records - 2oo8
"Untitled (Kha series)" & "Grand Treatments" - Cotton, Dragons Eye Recordings - 2oo7
"Reunion" - Paper, Dragon's Eye Recordings - 2oo6
"Crossings" - Cumulous, Memex Records - 2oo6
Lectures
-Pratt Institute; Brooklyn Campus - March 2016
Invited by professor Blake Carrington to give an over view of my work and discuss the current definition of Sound Art.
-Feirstein Graduate School of Cinema - September 2016
Invited by Jason Kliot to discuss my work with sound design for film, scoring and Sound Art.